The town hall was built between 1912 and 1919 and is one of the most remarkable modern buildings in Malaga.
The construction of the Town hall building started in 1912, when the mayor at the time was Ricardo Albert, and it was finished in 1919 when Manuel Romero Raggio was the mayor.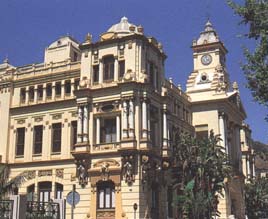 Amongst the work carried out was the structure of the building is outlined by the artistic windows,the balustrade of the main stairs, the artistic iron works and the locks.
On the other hand,from an artistic point the first one of them is decorated with paintings of Walnuts, Jaraba, Burgos Ons, Murillo Careers and Vivó. The sculptures are works of Palm and Zaneti.
The Town Hall is situated on Avenida Cervantes and is a large building dating from the begining of the 20th century. Most important is the front of the building, a monumental façade of two main parts, the upper with balconies and Ionic-style columns which support a triangular frieze crowned by a tower and clock.