This monument is one of the most important late baroque architecture in the city. The location of this typical 18th century building is next to the cathedral of Malaga. Visiting the palace also includes a visit to the fixed and temporal exhibitions.
Actually the lobby features a collection of African art distributed in 5 halls; There is a collection of Terracotta figures exposed from the most ancient Saharian civilizations and other valuable pieces of art.There is an area of this building used as Diocesan Museum of Sacred Art.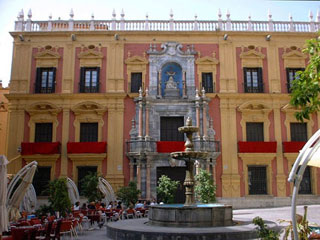 About the palace
Located at Plaza del Obispo (Episcopal Square), there is this representative building from the arquitect Antonio Ramos and Martín de Aldehuela who continued the work after the first died.
The palace is constructed around two forecourt, one of them is private while the other is for public access and used as exhibitions hall.
The following whole set stand out: the interior perron of imperial type as well as the court, where one gives a merger of Renaissance elements with others of Mudejar tradition, the above mentioned happen in the first and second floor, series of arches of half point, as consequence of the reconstruction of the post-war The baroque front with a view to the Plaza of the Bishop is of 1772, with Doric columns that form three bodies where it is possible to observe the image of alabaster of the Virgin of the Distresses, as well as a shield realized in stone.
Opening time and prices
The Episcopal Palace is open from Tuesday to Sunday from 11am to 9pm
Prices are:
Visit to the three expositions: 4€ and 3€ for residents.
Younger than 12 years old have free entry
If you want to visit also the cathedral of Malaga the combined ticket is 7€.
Episcopal Palace
Obispo Square.
Visits: 10-14 y 18-21. Closed on Mondays
Tel: +34 95 260 27 22
16th – 18th Century