When visiting Malaga you can not miss the chance to visit one of the landmarks of the city, Gibralfaro Castle.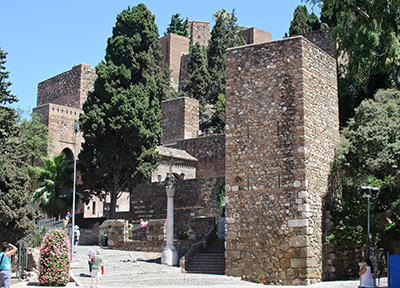 Built on the remains of an ancient Phoenician fortress and an old lighthouse on a hill during the tenth century. The aim of this fortress was to house troops and protect the Alcazaba, connected by the passageway of the two towers by a wall that extends along the hillside.
Catholic armies sieged the castle during the summer of 1487, it was a long siege that lasted until they conquered the castle.
Visiting Gibralfaro Castle
A walk through the walls of Gibralfaro will show you the best views of Malaga, we could say that it is mandatory not to forget the camera or a phone for taking pictures. If the day is clear enough you might be able to see the African coast.
Phone: +34 952 12 20 20
Address: Monte de Gibralfaro
PRICES
Admission: 2.20€
Prices for visiting both the Alcazaba and Gibralfaro Castle: 3.55€
Reduced price if living in Malaga: 0.60€
Free entry every Sunday from 14:00 hours in advance.
OPENING TIME
In winter from 9:00 to 18:00
In summer from 9:00 to 20:00
Further information and how to get
Getting to Alcazaba by car is easy, just have to pass by Marina Square at city centre and Paseo del Parque, make a u-turn at the next roundabout next to the bullring, but instead getting back to the same road head to Plaza de la Merced through the tunnel and turn right following Victoria street.
It is a good idea to have a map or a GPS, it is easy but might be confusing if it is your first drive on the area.
In the following map you can see the road route: