Very interesting museum showing the customs and popular arts in Malaga, it is distributed in 2 floors. There are 19 halls showing us how it was living in Malaga many years ago.
Hall 1: Stable
This hall with a typical floor used for the horses transit in old times as well as related items like ironworks and carpintery.
Hall 2: Forge
This hall shows the old forgery, forge tools and ironworks made.
Hall 3: Bakery
Reproduction of a bakery used in old times in Malaga. There is a flour mill, a bakery oven and tools used in bakery.
Hall 4: Fishing
The sea and fishing has been a very important activity in Malaga. In the past some people used to work exclusively delivering fresh fish, they were called 'Cenachero'.
This hall shows typical tools used for fishing in the past in Malaga, fishing boats, related paints and sculptures.
Hall 5: Kitchen and tools
Want to find how they cook in old times? There was no electricity and they had to cook using a fire. In this hall you will find the basic tools used in a typical kitchen.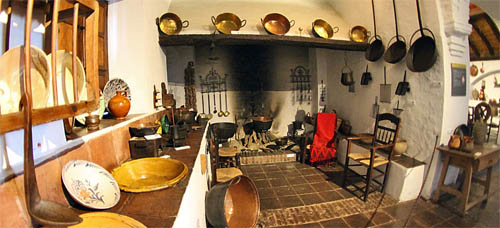 Hall 6: Dinning room
Usually the dinning room, the kitchen or home fire and the bedrooms were in the same place. Other rooms were for the animals or the grain.
Some villas with better economic resources could have a dinning room separately as well as rooms exclusively for sleeping.
Hall 7: Winery, cellar and tavern
Learn how was the process of making wine and vine growing.
Hall 8: Oil press
Oil industry is very important in Andalucia, here you will learn how it was done and the tools they used in the past.
Second floor
Hall 9: Bourgeois life
Mannequins with dresses and suits of nineteenth-century bourgeoisie, children's clothings and toys. Very interesting to visit for learning about the higher class in the old times.
Hall 10: Arturo Reyes office
Offices were very typical into the bourgeois homes, this one is the original office from the Spanish writter Arturo Reyes (1864-1913)
Hall 11: The den or drawing room
It was very common in those old bourgeois homes to have a drawing room next to the living room, it was used to receive visits.
Hall 12: Printing
Discover how it was the printing in the eighteenth century with this workshop museum
Hall 13: Rural bedroom
Typical iron beds, furniture and tools used in the past into a bourgeoise bedroom from the eighteenth century.
Hall 14: Agricultural works
Agricultural works were very important in the eighteenth century, this hall shows the clothes, typical shoes and tools used.
Hall 15: Pottery tradition
Architectural ornaments, pottery and pieces from the nineteenth century exposed in this hall.
Hall 16: Folcklore and festivities
Different showcases featuring typical folcklore dress, musical instruments, representations of typical festivities…
Hall 17: Representative figures and busts
This hall focus on busts and the old lifestyle representative figures collected by Peter Winckworth: Christmas figures, bullring, typical dancers or people representations among others.
Hall 18: Religion
Collection of religious objects from the 18th and 19th centuries.
Visits to the museum need to be confirmed and are guided visits so you need to make an appointment online or by phone: +34 952 217 137 or from www.museoartespopulares.com
Prices: Basic price is 4€
Younger than 14 years old: Free
10 people group: 2€ each
Opening time: From Monday to Friday from 10am to 5:00pm
Saturdays from 10am to 3pm
Sundays and festivities is closed
How to get there
You can use the suburban train (last stop), the Costa del Sol bus (110) or by car and park at the public parking located at Plaza de la Marina.
Address: Calle Manuel José García Caparrós, 1, 29005 Málaga, España
Website: www.museoartespopulares.com (in Spanish)