Discover the gastronomic festivals in the province to savour Malaga! Gastronomic events in Malaga in autumn usually attract thousands of visitors who enjoy tasting the typical products of each area.
Discovering the province of Malaga through its gastronomy is, without a doubt, one of the most beautiful ways to do so. In Malaga, autumn is one of the best times of the year to do so.

Gastrononic events in Malaga in October
Sopas Perotas Day in Álora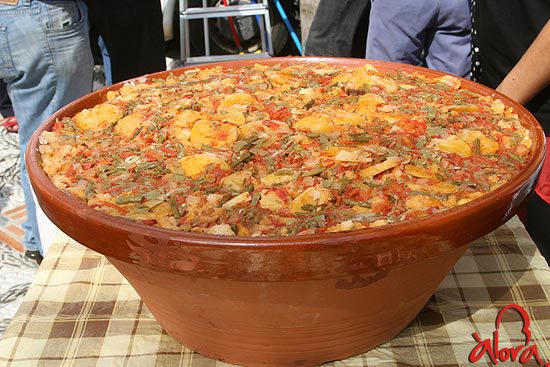 One of the star Gastronomic events in Malaga in autumn. This festival is all about this typical soup, taking place the first Saturday of October In the village of Álora.
This popular gastronomic event attracts every year thousands of visitors where free portions of this typical local dish are handed out, accompanied by Manzanilla olives of Álora.
There is also market with gastronomic products and traditional crafts from the area, in addition to a wide range of leisure and cultural activities.
Malaga and its wines

90-minute tour of the city where you will learn about Malaga's history and its wines, followed by a visit to the Wine Museum and a tasting of Malaga wine.
Artisan Cheese Fair in Teba
A must for lovers of artisan cheese: More than 50 cheese dairies offer their best products to the public. A weekend to buy and taste the best Andalusian cheeses and the most important designations of origin of the Iberian Peninsula.
In addition, there are workshops to learn how to make cheese, special activities for children, tourist routes around the town, music and entertainment and a photography competition.
Programme at the official web site
Chestnut Festival in Pujerra
Every year, at the end of October or beginning of November, Pujerra celebrates the Chestnut Festival. Throughout the day you can sample dishes made from chestnuts and accompanied by aniseed or brandy. There is also lots of music and dancing.
Chestnut and Wine Festival in Yunquera
This village is one of the best known in Serranía de Ronda and is dedicated to the cultivation of chestnuts.
Every year end of October, takes place a festival around this delicious fruit, where you can sample chestnuts roasted, in syrup, boiled or candied ogether with wine made from the exquisite grapes grown in the area.
During this popular event here are also many parallel activities.
Gastrononic events in Malaga in November
Chestnut Roasting in Ojén
This gastro-event takes place on the first Sunday after All Saints' Day. The so-called Tostón (roasting) is a very popular tradition in the village of Ojén (Marbella).
During this day you can enjoy traditional gastronomy as well as popular games along with roasted chestnuts, brandy and ham.
Mosto Wine Festival in Atajate
The popular Fiesta del Mosto in Atajate this year 2023 will be on the 25th of November. It normally coincides with the last Saturday in November.
The village Atajate offers must to all visitors, as it is one of the star and most typical products of this small town, starting from noon where free Migas are distributed during the day.
Fiesta de la Chanfaina in Totalán
The Chanfaina Festival, in Totalán, on 27 November, a gastronomic event which pays tribute to a typical local dish, chanfaina.
This dish is made with potatoes, oil, vinegar, garlic, breadcrumbs and spices, accompanied by sliced meat or black pudding.
Chacina Festival in Benaoján
The village of Benaoján, located in the Serranía de Ronda, is well known for its chacinas (cold meats).
During the beginning of December, Benaoján celebrates a gastronomic fair dedicated to the chacina, where you can buy a large number of products, as well as taste them in different stalls.
Gastrononic events in Malaga in December
Purple Carrot Festival in Cuevas Bajas
The Morá carrot (short form for morada = purple) is a local variety of carrot that is grown in the town of Cuevas Bajas, in the province of Malaga.
Throughout the day you can enjoy numerous dishes with the morá carrot as the main ingredient.
Migas Day in Torrox
Malaga's last gastronomic festival of the year takes place during the last Sunday before Christmas.
The village of Torrox pays homage to the most iconic dish of its gastronomy, offering a plate of Migas and a glass of wine to all visitors. All enlivened by numerous folkloric and musical performances.
If you plan to visit Malaga, don't miss the opportunity to experience one of these Gastronomic events in Malaga in autumn.
Attending these festivals is a perfect way to sample the most popular dishes of the area and discover the unique and authentic flavours of the local cuisine.