There are many good reasons to travel to Malaga and the Costa del Sol outside the high season. Among them, the excellent weather in Malaga in autumn & winter stands out above all.
How is the Weather in Malaga in Autumn & Winter?
The Costa del Sol bears this name with good reason, as in Malaga we can enjoy more than 320 days of sunshine a year, as well as mild, Mediterranean temperatures. In fact, winter as such is non-existent in Malaga.

So, how is the weather in Malaga in autumn & winter? Let´s have a look, month for month.
Weather in Malaga in Autumn
We will have a look at the months from September to November in Malaga.
September weather in Malaga
It can be said without exaggeration that, due to climate change, September is the new August. But without the crowds of the high season.
The high summer temperatures in September will decrease a little from the middle of the month. Daytime temperatures are still summery, with values between 27 and 29ºC, but rarely reaching 30ºC.
Night-time temperatures are also decreasing and we can finally say goodbye to tropical nights, with minimum temperatures around 20 degrees for a good night's rest.
The weather is ideal to continue enjoying the beach, as the sea is still retaining the summer heat, the water is clean and the beaches "breathe again" after so many crowds.
If you still don't want to say goodbye to the "summer feeling", September in Malaga is an ideal month.
October weather in Malaga
October is truly a golden month on the Costa. We continue with excellent weather around 25ºC during the day.
The beach is still an excellent option as the sun is finally not so hot and the water is still very good, although it is starting to cool down a bit.
October is the month par excellence to combine both beach and excursions to the interior of the province. Just to name a few ideas:
You can visit the beautiful white villages of Moorish origin or discover the vast expanses of chestnut forests which at this time of year take on spectacular hues. At the end of October, gastronomic events are also held in several villages to mark the end of the chestnut harvest.
And last but not least, discover Malaga, its architecture, its museums, its gastronomy.
In general, October tends to be a dry month, with only very occasional showers.
November weather in Malaga
In November we are also accompanied by the time change, which increases the feeling of shorter days, but even at the end of November we enjoy almost 10 hours of daylight.
November is historically the month with the most rainfall in Malaga, followed by February.
What few people know, Malaga is also the province of rainbows, as it is very common to witness a rain shower and within minutes the sun shines.
Daily maximum temperatures range between 22°C and 18°C, night-time minimum temperatures rarely fall below 13ºC.
What clothes to bring in Malaga in Autumn
If you move around the Costa del Sol during the day, you can easily bring your sandals and light clothing such as short dresses, shorts and short-sleeved T-shirts.
As it gets cooler in the evenings and especially by the sea, you should also bring a long-sleeved T-shirt and a light cardigan. As autumn progresses, warmer clothes and closed shoes, a light sweatshirt and a mackintosh are needed.
Yet you should also bring light clothes, as during the day it gets warm and so you can just dress like "onion style" and put on or off the required layers.
Weather in Malaga in Winter
We will have a look at the months from December to February in Malaga. These winter months, which are characterised in the northern hemisphere by freezing temperatures and snow, are a pure delight in Malaga. Here, winter as such does not exist.
That's why we can't stress enough that you should come and visit us in Malaga in winter if you want to escape the cold into spring.
As we mentioned before, the winter months in Malaga are characterised by a very mild climate and abundant flowering and colour.
These months are ideal for excursions in the interior of the province, hiking routes, visiting the famous Caminito del Rey or a city break to the south of Europe, far away from the cold.
December weather in Malaga
If you're thinking about a trip to Malaga in December, you're in for a treat! This month is characterized by a generally very stable climate with little or no rainfall and splendid sunny days where you can easily sunbathe in short sleeves at midday on a terrace.
You can't miss the lively Christmas atmosphere in Malaga and its famous Calle Larios which has some of the most beautiful Christmas illuminations in the world.
Daily maximum temperatures are around 17°C, rarely dropping below 13°C or exceeding 22 °C. Daily minimum temperatures are around 8°C, rarely fall below 3°C or exceed 13°C.
January weather in Malaga
After the extraordinarily dry and warm month of December, January generally brings a slight drop in temperatures and more unsettled weather, characterised above all by a lot of wind.
Daytime temperatures are between 14ºC and 18ºC, which is still perfectly spring-like for most of our Nordic visitors.
February weather in Malaga
February is basically the coldest and rainiest month in Malaga. Due to the climate change in recent years, we haven't experienced these values, but usually daytime temperatures have been around 12ºC and due to the high humidity combined with wind, the sensation of cold is more intense.
Which is why you can see many locals clad with thick boots and scarfs although its really not that cold.
What clothes to bring in Malaga in Winter
That really depends a bit on your personal sensation of "cold". We very often see even in the winter months many northern tourists walking around in summer attire, as actually our temperatures feel rather springlike to them. And the sun actually never looses its strength and shines nice and warm.
So, we always recommend "onion style": Some short-sleeved shirts for during the day and even maybe your sandals or light closed shoes. You can leave your winter boots at home. Also, long sleeved shirts and a cardigan or a jumper and a Mackintosh are very useful. In the winter months its very often very windy, so the Mackintosh will come in very handy.
Can you swim in the sea in Malaga in winter?
Yes, you can. It depends on your subjective perception of the cold, as the water temperature is only around 17 degrees. However, there are many locals who take their invigorating dip in the sea even during the winter. You warm up again in no time on wind-protected beaches, as the sun is still shining warmly.
Malaga in the winter months is also very popular with surfing and kitesurfing enthusiasts with excellent sea conditions for this sport.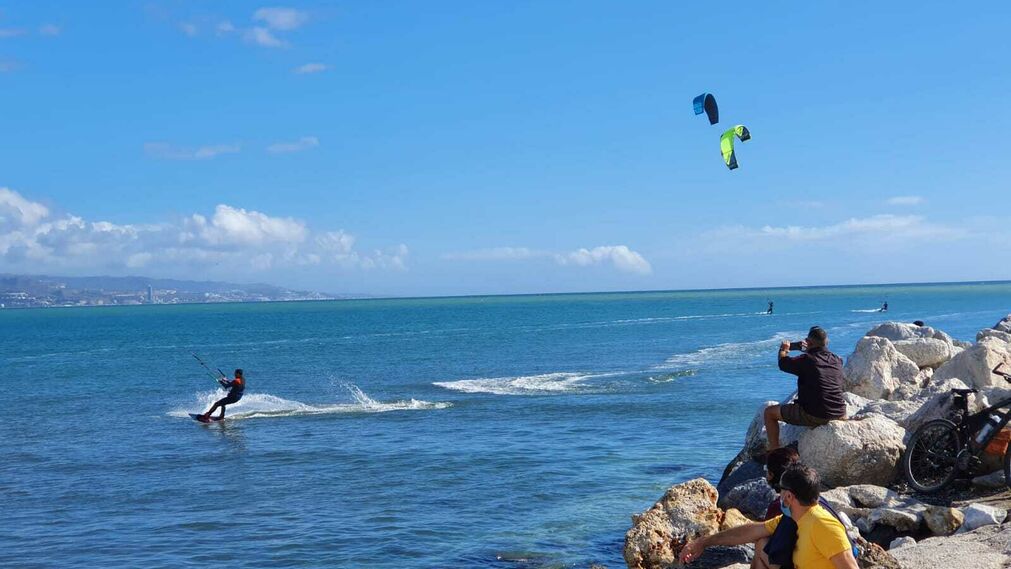 And last but not least, if the water is too icy for you, join the many locals who enjoy walks along the seashore. At midday you can go barefoot, an excellent boost to the immune system. Or enjoy spectacular winter sunrises and sunsets by the sea.
As you can see, the weather in Malaga in autumn & winter is quite a delight! We hope you´ll decide to book a flight to the Costa del Sol during these months, you surely won´t regret it.