I write this article not only for those who are thinking in visiting Malaga this Christmas, but for those who live here and are looking for ideas or activities to do in December.

Christmas is celebrated in Malaga with lights and joy, the decoration in december take importance in the city centre and the municipalities.

The month of December often misleads those who come for the first time to Malaga. Although the mornings can be quite cold (for a local) with around 7ºC, after 12am it rises to a pleasant 20º. The weather is ideal for practicing many activities, many more I deal with in this article. If it rains, it will be probably something occasional…December is not characterized by bringing heavy rainfall.
Ice Skating in Malaga
Throughout the year you have the possibility to go to the ice rink of Benalmádena, in Arroyo de la Miel. It is only during the month of December when an ice rink is usually organized every year in front of  El Corte Ingles mall.
It is open to public, also there takes place different exhibitions by professionals.
Opening hours are from 10am to 10pm. Access requires the use of gloves and  long trousers, for protecting us when falling.
The ice rink use to close just before the Three Kings Parade. The access is simple, for getting there you can take the commuter train to the last stop at 'Centro-Alameda' or you can go by car and park inside Corte Ingles mall. The ice rink is in front of the mall and there is also a multi-lane slide.
Ice skating in Marbella
There use to be a ice rink in Marbella, at Plaza del Mercado where children can have fun since the morning. There is a inflatable castle and much enjoyment.
Schedule: 11 am to 2 pm and 5 pm to 9 pm.
Location: Plaza del Mercado.
Ice skating in Fuengirola
Fuengirola organises every year a Christmas village with many activities for children. The ice rink use to be at Fuengirola Fairgrounds and opens every day.
Schedule: Monday to Friday from 5 pm to 10 pm. Weekends from 12.00 to 3 pm and from 4 pm to 10 pm.
Location: Fairgrounds.
Christmas Markets
December is the perfect month to enjoy Christmas markets, shop or just stroll around enjoying the Christmas atmosphere and the decor that floods the streets during these dates.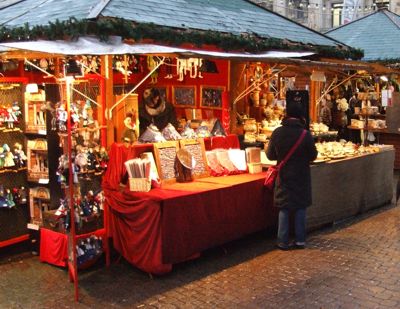 Every year some municipalities of the province organize their own markets, especially recommended could be the one they organize since recent years in the park of Malaga, a Christmas Craft Fair, perhaps a good place to buy gifts.
There are other Christmas markets throughout the province: Ronda, Estepona, Marbella, Torrox, Arroyo de la Miel (next to the train station) … If you fancy visiting a particular municipality do not forget to visit the Christmas market.
Christmas lighting in Malaga
From the 24th of November the Larios street, main artery of the city of Malaga, is decorated and illuminated for Christmas.
Christmas lighting in Malaga changes every year, it is one of the most beautiful in Europe so you should not miss it. The area is ideal for a walk, there are plenty of shops, bars and restaurants to spend a pleasant evening.
Christmas lighting is usually turned off on January 7.
Traditional Nativity Scenes in Malaga
Every year they organize a traditional nativity scenes inside the Cathedral of Malaga (check for opening times and information). If you have not visited it before or you like the Christmas compositions, it could be an interesting option to take in consideration.
In addition to this, there are more traditional nativity scenes throughout the entire Costa del Sol. If you are one of those who adore Christmas season and Traditional Nativity Scenes, you will certainly enjoy those that are displayed in the Cathedral or in the Town hall, open daily from 10am to 2am  and 5pm to 9pm
You can ask at Tourism Office for a map
Christmas dinner
It is common that the night of the 24 to 25 of December takes place a special dinner for Christmas, just before the arrival of Santa Claus (Papa Noel) with the gifts.
I have received a few emails asking about whether they open the restaurants that night for the Christmas dinner and the answer is that some do, but I recommend to book NOW!
If you are staying in a hotel I would recommend asking about Christmas dinner, presumably they will offer a special Christmas and New Year's Eve menu.
New Year's Eve
During this night the atmosphere is festive, many of the people choose to pay a reservation at an organized party. If you are in Malaga for New Year and want to celebrate it at one of these private parties, I warn you that most require early booking.
If you stay in a hotel I recommend you to ask for the New Year's party and dinner, many of them offer dinner with grapes for the bells and a party to celebrate the new year.
At the Constitution Square, from 23:00 hours and with free admission, you have the option of eating the 12 grapes surrounded by many more people. They will celebrate New Year with music and dances.
For those who don't know where is it, just click on the following link to see on google maps.
Those are some ideas for those who come to Malaga in December. Are you going to spend Christmas in Malaga?
The Three Magic Kings procession
After New Year and at the 5th of January, the Three Magic Kings (also known as the Three Wise Men) arrive at Malaga port at 5pm. Once they stop, and each one of them sit in their respective carriage, one boy, representing all the children in Malaga, reads out a letter to the Kings. After the reading, the parade commences its route setting off in the park's boulevard and finishes at the town hall.
The Three Kings star each year in this traditional procession that hit the streets of the city centre. Melchor, Gaspar and Baltasar are followed by a dozen more carriages, as well as music bands and a pastoral. Whilst they parade through the main streets of the city, all the members of the cavalcade throw millions of sweets at the crowd of thousands of people that gather round to enjoy this special event.
To conclude the acts, the main post administration and the Telecom centre organize a brilliant festival, with performances of singers, illusionists and other artists from the city. After this comes the tremendous entrance of the Kings, applauded by all the children there. Then they share out sweets, toys and other presents.
Every year the quality of the parade's acts in Malaga gets better and better.
Continue reading
If you want to know more things to do in December I can recommend to check the top tourist attractions in Malaga.