Sierra de las Nieves is located at the province of Malaga, within 1 hour by car from the capital and at a beautiful natural environment. There are several towns nearby that we encourage you to discover.
Flora and fauna
From flora we can highlight the fir forests, a specie that survived the last glaciation and in the peninsule is only found in southern Andalusia. We do not forget about the cork oaks and oaks that you can find in the mountains of Istan or the carob and chestnuts in Tolox.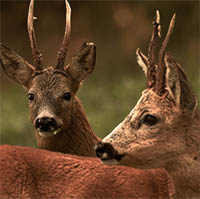 Among the fauna is quite common to sight some ibex or roe deer. If you follow a hiking trail near a river you can possibly meet with some otters.
Meeting Sierra de las Nieves
At the higher areas of the mountain chain you can find the remains of old wells that were used in the past for snow storaging, in Spanish the people on charge of of storing snow during the spring into those wells were called 'neveros'. Some of those wells have been restored and are in perfect condition, are located along some of the hiking trails.
Have you ever wondered about the age of those big trees you find in the way? We can't tell you the age of each of them, but in the area known as Las Escalaretas there is a 5 meters diameter fir tree known to be the oldest in the mountain, is near 500 years old and people know it as Pinsapo de las Escalaretas.
Sierra de las Nieves has short and affordable hiking routes anyone can try, others like the Tordecilla peak are for those with experience seeking challenges with great rewards, the view from the top is breathtaking.
Añthough Sierra de las Nieves has been inhabited since prehistoric times, Muslims have been those who have left a greater legacy. There are many remains, castles, ancient walls and of course the white villages and its gastronomy, greatly influenced by the Al-Andalus period.
Hiking trails
It is advisable to visit Los Quejigales, you can access it from the road from Ronda to San Pedro de Alcantara (Marbella) or from the road from Ronda to El Burgo.
Access to Torrecilla peak
The main attraction for hikers is the path leading to the peak Torrecilla from Quejigales, a route for those who have experience because of the average difficulty.
You should begin from Caucon viewpoint at 1200 meters height. F ollow the path to Los Quejigales and continue until Pilar de Tolox, you will pass by one of the old ponds we wrote above on your way to the Torrecilla peak at 1957 meters.
It is a very recommended route by those who made it, they say it is one of the most beautiful hiking routes in Sierra de las Nieves, worth a try if you feel able to finish it.
Distance: 21 km.
Minimum height: 1134 m. to Maximum height: 1957 m.
Time: 7, 30 hours.
Difficulty: Average
Easy circular route from Yunkera
Ideal for those without experience in hiking but that want to enjoy the beautiful lanscapes of Sierra de las Nieves and the fir forest.
You can find an informative signal post at the mountain port of 'Puerto del Saucillo' from where this route begins.
Distance: 7,8 km.
Time: 6 hours.
Difficulty: Easy to average
You can find more routes with GPS coordinates and maps at: www.wikiloc.com
Natural pools
Nothing better for a hot day than a natural pool to cool off in summer. In Sierra de las Nieves there are abundants poools of cold and crystal clear water from rivers.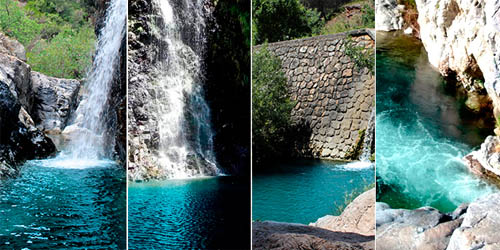 Natural pools of the river Guadalmedina in Benahavis
Near Marbella there are popular natural pools with up to 3 meters deep. It is possible than those pools are crowded in summer because they are quite popular and very close to the city of Marbella.
To get there you can park near Benahavis and walk to 'Poza de las Mozas' ) Mozas Pond.
Natural pool from Rio Verde in Istan
With a waterfall as part of its landscape this natural poool at just 2.5 kilometers of Istan at a relaxing environment. For getting there you must follow the river path.
Natural Pool of Turon river in El Burgo
There are two natural pools, both are used by the inhabitants of the municipality during the summer and can be reached by car.
Los Caballos river pool in Tolox
If you plan visiting the spa in Tolox you may enjoy a visit to this natural pool with a nice waterfall.
Map of Sierra de las Nieves