This Natural Park is located mostly in Cadiz but we can also find a part of it in the northern of the province of Malaga, Ronda, Montejaque, Cortes de la Fontera, Jimera de Libar and Benaojan.
Attractions in Sierra de Grazalema
Sierra de Grazalema features a great variety of landscapes mainly based on limestone: valleys, karst formations similar to the Torcal de Antequera, caves or some of the most important karstic caves of Andalucia.
If you want to know any of the most beautiful places inside this Natural Park you should continue reading our recommendations:
Guadiaro River Valley
Beautiful landscape thanks to the action caused by the Guadiario River as it passes between the towns of Benaojan and Jumera de Libar.
If you enjoy hiking there is a route linking the two municipalities mentioned above and which runs side by side with the river, on the opposite side while walking and if lucky you might be able to sight wild animals along the route.
Cueva del Gato
Near the village of Benaojan and just before taking the route above there is a signal with both directions, the route to Jimera del Libar or Cueva del Gato to the left, a declared Natural Monument and one of the largest Speleology sites in Spain.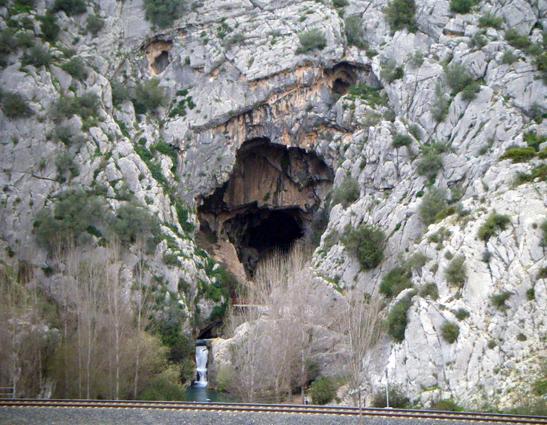 Cupil Gorge
This Gorge is in Ronda and well worth a visit for its scenic beauty.
Cueva de la Pileta
This cavity in the village of Benaojan has Prehistoric cave paintings and has been declared of Cultural and Historical Heritage.
It can be visited daily but requires payment and you must check the opening times. The guided visit is for all audiences, visitors can take a look at some of the rock paintings with up to 30.000 years old.
Opening every day of the year from 10:00 to 1:00pm and from 4:00pm to 6:00pm
Price: 8€
Reservation phone: +34 687 133 338
Flora and Fauna
Thanks to the amplitude of this Natural Park there is a wide variety of species, It holds more than 55% of plant species in Andalucia, some of them endangered or of special interest.
Among the fauna there are over 350 species, some endangered species like the Bonelli's eagle. If you look at the sky you might be able to sight an occasional griffon vulture as this Natural Park has many birds of this specie.
Meeting Sierra de Grazalema
Visiting Sierra de Grazalema is like getting to another world, a world of beautiful landscapes and of great historical legacy. Inhabited since prehistoric times which has left some cultural remains like the paintings inside Cueva de la Pileta, a Roman road or the Necropolis of the Giants in Ronda.
The villages that are part of this natural environment have ancient craft practices which still being used and festivals throughout the year.
Towns and villages
Cadiz: El Gastor, Benaocaz, El Bosque, Grazalema, Prado del Rey, Ubrique, Villaluenga del Rosario and Zahara.
Málaga: Benaojan, Cortes de la Frontera, Jimera de Libar, Montejaque and Ronda