When the sun and beach days of the high season in Malaga are over, the "other" high season begins for golf lovers along the sunny Costa del Sol during thw winter months.

Why you should play golf in winter in Malaga
On the Costa del Sol the golf segment starts its particular 'high' season from autumn onwards. Tens of thousands of tourists come to the province during these cold months attracted by the good weather and the offer to practice this sport. Find out why this is your place to be!
The Costa del Sol has one of the largest, and perhaps the best, golf infrastructures in Europe.
The climate in Malaga is unbeatable. With more than 320 days of sunshine a year, winter as such does not exist on the Costa del Sol. Its Mediterranean coastal strip is furthermore protected from the coldest winds by mountain ridges.
The hotel offer regarding golf holidays is excellent, with a wide range of 4- and 5-star establishments offering accommodation packages with golf or flats next to the golf course.
Malaga-Costa del Sol airport maintains a very large number of flight connections to more than 120 destinations during the low season months. In addition, the Costa del Sol is the European destination par excellence with the best weather conditions and can be reached in just a few hours.
The Costa del Golf is much more than a first-class sporting offer. The province of Malaga is rich in history & heritage, culture, leisure and nature. A lot to discover in addition to playing golf.
And last but not least, even in the middle of "winter" on the Costa del Sol we have almost 10 hours of daylight, most days with bright sunshine.
High Season for Golf on the Costa del Sol
The high season for golf in Malaga is during the winter and the arrival of spring.
Precisely when in the rest of Europe the harsh winter makes it practically impracticable to play golf, visitors will find a warm destination where to enjoy their favourite sport.
High Season for Golf in Malaga is September, October, November, February, March, April and May.
We have to take into account that he prices for golf are at their highest during these months. Nevertheless, we can find good deals since, on the other hand, accommodation, flights or rental cars in Malaga are much cheaper in low season.
Costa del Sol = Costa del Golf
You may have already heard of the term coined for the Costa del Sol by golf lovers.
It is known as the Costa del Golf because it is the area with the most golf courses in Europe.
Take a glimpse of Golf Torrequebrada in Benalmádena in this video.
Currently the province has more than 70 golf courses (more than 70), distributed in towns such as Torcal de Antequera, Sierra de Mijas, Valle del Guadalhorce, Málaga, Torremolinos, Benalmádena, Marbella and Estepona.
In fact, between Marbella and Estepona is where you are going to find more offer.
Marbella Golf Valley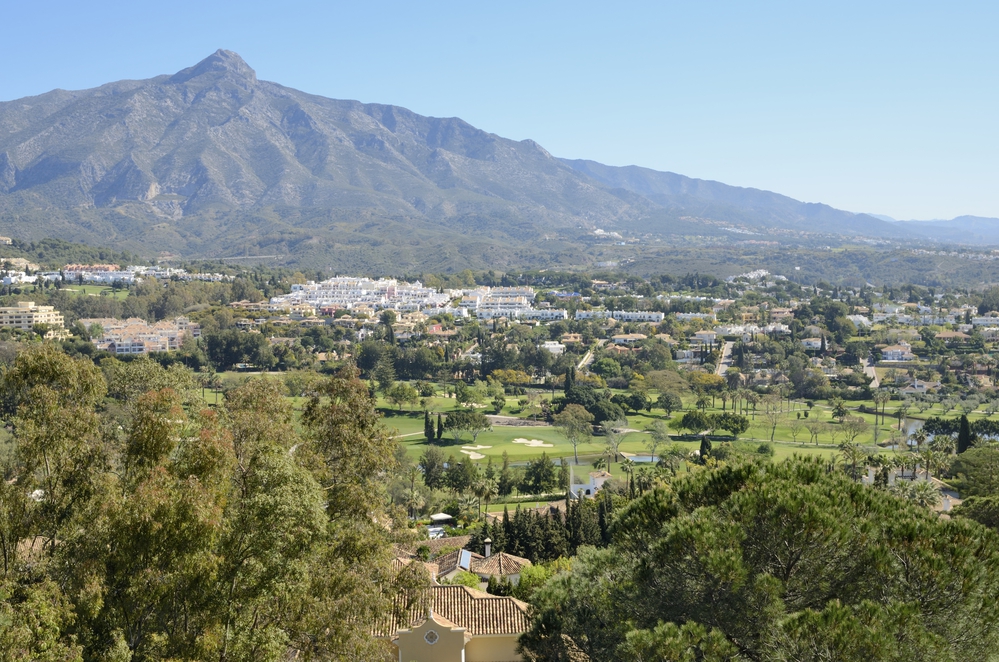 Marbella is the city that offers the most golf courses on the Costa del Sol and also has the most luxurious hotels and residences that are open all year round.
In the west area is located for example the famous "Golf Valley", an ideal complex of three magnificent 18-hole championship courses: Aloha Golf Club, Las Brisas Golf and Los Naranjos Golf, 5 minutes' drive from Puerto Banus.
Winter weather in Malaga
The months of September and October are in fact an extension of the summer in Malaga with temperatures above 25ºC.
In November, temperatures finally start to drop and most days have temperatures between 20ºC and 25ºC. November is historically, together with February, the month with the most rainfall, which is becoming scarcer every year.
In December the weather is generally very sunny and there are many days when you can be out in the sun in short sleeves at midday. Daytime temperatures can easily reach 20ºC on many days.
January and February are the coldest months in Malaga and depending on the day, daytime temperatures can vary between 12ºC and 16ºC.
But this is also changing thanks to climate change. So, in the past winters, we have rarely had days with less than 15ºC. In general, the days are very sunny and the sun shines brightly.
In other words, it is an ideal climate to enjoy a day of golf. Have you already decided to come to Malaga to enjoy your favourite sport?
Winter Golf Championships
On the Costa del Sol there are also various championships scheduled throughout the year that you can attend during your golf holidays in Malaga.
For this season there are for example