Due to its geographical location and its mostly clear skies throughout the year Astrotourism in Malaga is a very interesting activity for those who enjoy nature, stars and views of the Milky Way.
Although in Malaga you can enjoy Astrotourism all year round, obviously during the summer months the mild temperatures are perfect to be outdoors all night long without getting cold.
In addition, in August we can enjoy a special celestial spectacle, the Perseids star shower.
Discover everything you can do if you are in the province and you are interested in Astrotourism in Malaga.
Astronomical experiences in Malaga
If you don't feel like taking the car and going on your own to some of the light pollution-free places we mention below, there are several interesting options:
You can sign up for an astronomy experience with experts who will explain the night sky to you.
These experiences usually include professional telescopes and equipment and professional guides.
Astronomy Observatory El Torcal
The natural site of El Torcal de Antequera is situated at 1,200 metres above sea level, less than an hour from Malaga airport.
This natural enclave in itself is worth a visit for its impressive karst formations that resemble a fantasy landscape. It has a visitor centre, restaurant, two short and easy walks. It also has an astronomical observatory, called Astrotorcal.
The observatory offers activities all year round, in winter usually at weekends. During the summer months there are activities every Monday, Wednesday, Friday and Saturday.
Particularly interesting is the Perseids star shower which takes place on 11, 12 and 13 August.
During these nights, several telescopes will be set up to view galaxies, constellations and nebulae, as well as being able to see hundreds of shooting stars with the naked eye in this privileged environment with very little light pollution.
AstroÁndalus
AstroÁndalus is the first travel agency specialised in astronomical tourism.
With them you can book telescope observation, StarParties and combined activities, workshops (astrophotography, solar observation, water rockets for children, light pollution) and talks and exhibitions on astronomy, astro-tourism and science.
The company specialises in organising these events and can be a perfect gift for a birthday, anniversary or wedding. The activities take place mainly in the Axarquia region on the eastern Costa del Sol.
AstroLab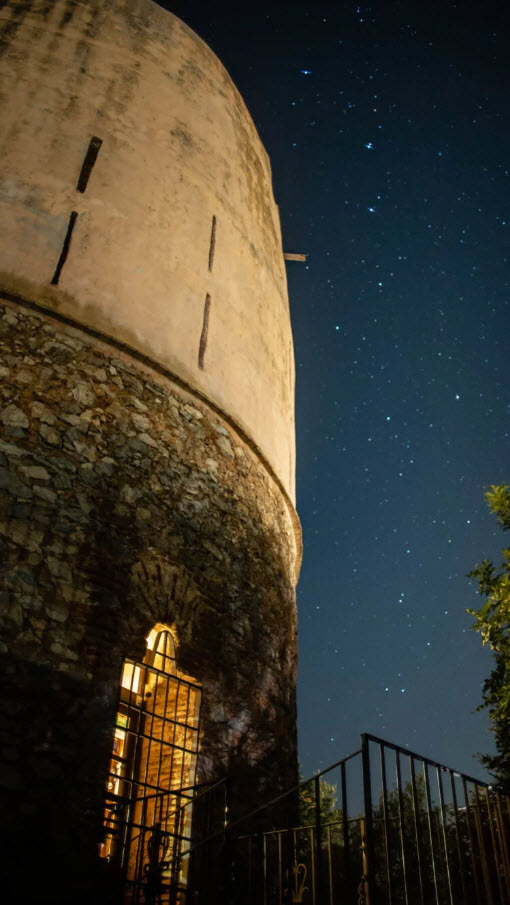 Located in the Sierra de las Nieves National Park, specifically in the village of Yunquera, is this astronomical observatory.
Located in an old watchtower, it offers both public and private activities.
There are sessions to see the summer night sky or to discover the surface of the moon, both public and private, where the observatory opens just for you.
Cable car Benalmádena
The Benalmádena cable car is a great idea all year round: Enjoy the most spectacular panoramic view of the Malaga coastline on a trip to the top of the Calamorro, 800 metres above sea level, in comfortable gondolas equipped with audio guide.
During the month of August the cable car is open until 11 pm and therefore offers a great alternative to see the night sky and the beautiful coastline of Malaga at night.
The Benalmádena Cable Car usually organises events throughout the summer to observe the sky with the help of large telescopes and projectors in its open-air Planetarium.
At the top there are several panoramic viewpoints, as well as trails. The enclave also has a restaurant, with an enclosed cafeteria and open-air terrace, and there is also a kiosk.
Folding wheelchairs or wheelchairs with a total width of less than 70 cm can enter the cabins. The main viewing platform nearby is also accessible for people with reduced mobility.
See the Perseids in Malaga in August
The Perseids star shower in August is one of the most popular and observed astrological events each year.
It is a cloud of meteors that crosses the earth from 17th July to 24th August, with the highest shooting star activity visible between 11th and 12th August, specifically on the night of 12th August between 9 pm and 12 pm.
During these days, between 80 and 200 shooting stars per hour can be observed, especially in the hours before dawn.
This year, the Perseids coincide with a new moon, which will make it easier to see the stars.
Just look to the north or go to a place clear of artificial lights, such as an open field, mountain or beach.
The best locations in Malaga to see the Perseids
Although light pollution along the Costa del Sol is generally not favourable, we can still see shooting stars looking north.
If you feel like taking the car and going a little further afield, these are the best places in Malaga to see the Perseids.
Torcal de Antequera
Wonderful natural site at 1,200 metres above sea level with spectacular karst formations, an hours´ drive from Malaga.
Sierra de las Nieves
The first national park in Malaga where abound water and Spanish fir tree forests, an hour´s drive from both Málaga and Marbella.
Axarquía
The Axarquía situated on the eastern Costa del Sol is the "roof of Malaga", with the highest mountains in the province and charming white villages of Moorish origin nestled in the slopes.
Serranía de Ronda
Centuries-old chestnut forests and rivers, dotted with white villages of Arab origin, just an hour's drive from Marbella.
Maro Cliffs – Cerro Gordo
A protected natural site with spectacular cliffs and hidden coves, located in the easternmost part of the province and bordering the province of Granada, about an hour´s drive from Malaga.
Mount Calamorro Benalmádena
Very close to the coast, however, from above and looking north you have a good chance of seeing shooting stars at Mount Calamorro in Benalmádena.
You can comfortably take the cable car up from the centre of Benalmádena.