If you are looking for a drink and enjoy live music in Malaga do not go anywhere, find here the most popular pubs and bars with their address and kind of music. Different genres of music and live entertainment for all audiences.
Let's review the main places where you can enjoy a live music in Malaga:
Located in the centre of Malaga this place organize live concerts, parties and dj sessions.
Address: Calle Comedias, 15.
Website: www.velvetclub.es
Map
Live concerts and Dj sessions on weekends.
Address: Plaza de San Francisco
Live and alternative music with weekly concerts in a friendly atmosphere.
It is a meeting point for people under 30.
Monday to Friday: Live alternative conerts.
Weekends: Live DJs.
Website: http://www.zzpub.es
Map
Situated in Malaga this place offers different music genres throughout the week:
Tuesdays: conciertos de jazz
Thursdays: baile y cante flamenco.
Fridays and Saturdays: Rock concerts, pop, blues, ethnic conerts, classical music, theater perfomances…
Address: Calle Gomez Pallete, 5 (frente a mercado en Plaza de la Merced)
Map
Typical decoration and live flamenco performances.
Address: Calle Ramón Franquelo, 4
Map
Taberna Flamenca Los Tocayos
Bar in Malaga with live flamenco shows from Thursday to Saturday between 23:00 and 4:00
Address: Calle Mariblanca, 9 (cerca del Teatro Cervantes)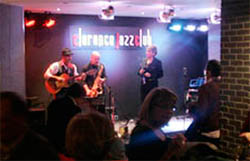 Jazz lovers will find everything they need at this club from 20:00 to 2:00am
Address: Calle Cañón, 5
Facebook
Website: www.clarencejazzclub.com
Miguel Cervantes Municipal Theatre
(Behind Plaza de la Merced). Regular concerts, theatre and dance performances.
Website: www.teatrocervantes.com
Local bands use to make concerts and it is a meeting point for heavy metal, punk and rock lovers. Actually is closed permanently