This amusement and theme park on the Costa del Sol is in Benalmadena, exactly in Arroyo de la Miel. It was inaugurated in 1972, over the years new rides and attractions have been added. It is an ideal place for going with family, children will enjoy the experience.
Rides in Tivoly World
Ready to enjoy the rides in Tivoli? Remember that some rides have restrictions based on the height, some of them allow the entrance of the children when not reaching the height if with an adult.
The following map show the rides:
Some of the most popular rides for those taller than 140cm (55 inches)
The following rides are allowed for those with tivolinos tickets:
Dinolandia
Tivoli Dragón
Free Fall 60m.
Different size of Ferries Wheel.
Twister
Roller Coaster
Crash cars
Castle of Terror
You have to pay a separate ticket for:
Mansión of terror: Human actors will bring to life your worst nightmares on a walking tour (children smaller than 140 can be accompanied by an adult)
Karting
Exclusive rides for the youngest of home, children will enjoy the attractions below:
Children Rollercoaster
Baby Boats
Mini track
Aero baby
Tivoli jungle
Pirates
Marine Bay
Minimum height of 110cm (43 inches)
Free fall of 9m.
Mini carrousel and double carrousel
Children's ferris wheel
Mechanic horses
Ratonlandia is free and it does not require ticket or tivolinos.
Other attractions and rides of the park:
Shockboats: Buying a ticket is required and minimum height is 130cm (51 inches)
Mysterious boat: One of the oldest attractions and very funny, minimum height is 120cm.Una de las más antiguas atracciones, requiere altura de 120cm (41 inches) en adelante.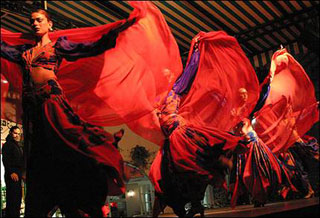 Performances and shows
Among the entertainment in this park there are concerts, shows and expositions.
Flamenco and folcklore shows
Expositions and events
Perfomances for children
Shooting galeries and other games
Services and restaurants
There are many public services in the theme park:
Medical care
Restaurants: Some of those restaurants offer family special events under request such as birthday celebrations.
International restaurants: American food, chinese, mexican or italian cuisine..
Photo and souvenirs shop
Ice cream shops, cafes and candy shops
Fast food with hotdogs, hamburguers and sandwiches
Brewery
How to get, prices and opening time
Depending on from where are you coming it would be better taking one specific transport means, if you are driving to Tivoli World the theme park has over 2000 private parkings available.

In the following map you can find where is it and if clicking on it you can find the opening time today:
Prices
Basic entrance cost is 8€. Those older than 65 or children smaller than 1 meter have free entrance.
Basic entrance let you enjoy the different perfomances and shows in the park, they can be more than 20 during the summer season.
The price of the entrance or the packs below have special discounts for groups or for buying online from the official website at: https://www.tivoliworld.net/en/home
Rides and prices
For enjoying most of the attractions you need to buy tickets or a package:
Supertivolino: for 15€ you can use up to 35 stated rides unlimited, but have to pay for the three below.
Combi Ticket: for 10€ you can try once Mansion of terror, Go-Karts and Shocking boats.
Tivolino: 3€ for each tivolino which can be used for all the attractions, you can buy at any stand inside the park.
Opening time
The opening time can change throughout the year, website state today they are actually open daily from 12am to 7pm, including Saturdays and Sundays.
Find the exact opening time for the year in the table below: