Malaga airport - Costa del Sol
Malaga airport - Costa del Sol is one of the 4 major airports in passenger volume in Spain, well connected with both domestic and international flights..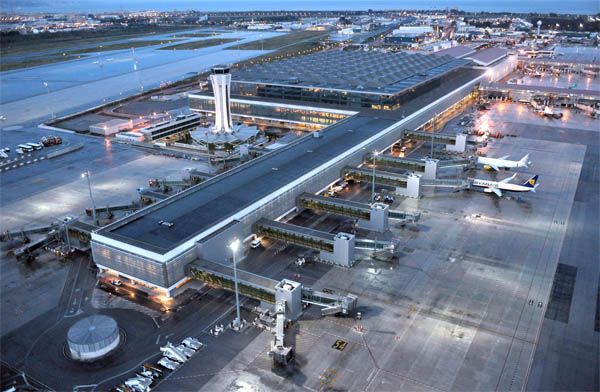 Malaga airport terminals
There are 3 terminals, but only the last 2 of them are used for commercial flights:
Terminal 1: Actually closed to public access but it might be used occasionally if passenger traffic increases.
Terminal 1 has no gates, just arrivals area. It is currently being used as arrival for private flights and general aviation but not for commercial flights.
Terminal 2: Also known as Pablo Ruiz Picasso Terminal, it is used by some flights but it is not the main terminal. There are no domestic flights in this terminal.
Terminal 3: This is the main terminal and probably the terminal your flight will use, it is used for both domestic and international flights.
Both terminals 2 and 3 offer the traveller a Duty Free area and bars or stands where drinking or eating while waiting.
Terminal 3 has stores of known brands such Ferrari, Adidas, Starbucks, Haagen-Dazs among many others.
Transport from Malaga airport
When picking up a transport means from the airport you have several choices, it depends on where are you heading to or what have you planned for your holiday:
- Car rental
You can hire a car at Malaga airport, there are many companies offering this service inside at arrivals terminal or outside the airport with a shuttle service for the passenger. International brands like Avis or Hertz are located inside the airport, others known brands like Malagacar.com offer also a shuttle service for free and payment is on arrival.
- Malaga airport trains
Train is a convenient means of transportation that is always on time. The main train station at Malaga airport is accessible from both terminals and the commuter train connects Malaga train station with Fuengirola with stops at Torremolinos and Benalmadena..
- Bus
From the airport there are buses to Malaga, Algeciras, Benalmadena, Estepona, Marbella, Torremolinos or even Granada. Schedules can change depending on the season.
- Malaga airport transfers, shuttles and taxis
This is a recommended transport means for those who travel with a lot of luggage and are not willing to rent a car. It is a comfortable option for getting to your hotel or to the airport on time.
Malaga airport services
Malaga airport is one of the most important in Spain, first in importance in Andalucia and it offers the visitor a wide variety of services:
- Public parking at the airport
There is a public parking at Malaga airport, you can use it for a price depending on how long will you park your vehicle. There are also other companies next to the airport offering this service usually for a lower rate and it includes an insurance for the vehicle.
- Shopping at Malaga airport and Duty Free shops
Like at any other international airport there are many popular brand's shops as well as tobacco shops, perfumeries, jewellry stores and pharmacies among others.
Duty Free shop is at Terminal T3, first floor on departure gate, open from 4,30am to 12,30pm.
Inside our airport guide you will find all you need to know about Malaga airport shopping.
- Currency exchange and ATM
There are currency exchange at Malaga airport as well as ATM machines, all those services are in Terminal T3.
Some companies like Malagacar.com also offer ATM within their facilities.
- Malaga airport WIFI and how to get portable WIFI
Malaga airport offers free WIFI for connecting to Internet within its facilities for unlimited time with kubiwireless.com.
If you need to you can rent a portable WIFI for connecting to Internet from anywhere in Spain and if you are going to rent a car, we recommend to book it with MIFI as it will be much cheaper than booking the portable WIFI alone.
Other services and help at the airport
- Information desks
There are information desks around the Terminal 3 from the airport: arrivals, baggage claiming, billing area and boarding gates.
- VIP lounge
Airport offer a vip lounge for those with a business class card or by paying a fee. You will find the VIP lounge in Terminal T3 at the second floor near the boarding area.
- Disabled people
The airport offers a special service for disabled people but it must be required in advance, you can do it from here.
More information
You can check the official website from AENA for Malaga airport at:
http://www.aena.es/csee/Satellite/Aeropuerto-Malaga/en/
AirMalaga.com (Plenty of information about Malaga airport and the services it provides).